The system began in 1982 with the creation of the Norfolk Southern Corporation, a holding company for the Southern Railway (SOU, formed in 1894) and Norfolk & Western Railway (N&W, formed in 1881). In 1990, the two systems merged and formed the Norfolk Southern Railway.
The system grew with the acquisition of over half of Conrail. In 1996, CSX bid to buy Conrail; Norfolk Southern, fearing that CSX would come to dominate rail traffic in the eastern U.S., responded with a bid of its own. On June 23, 1997, NS and CSX filed a joint application with the Surface Transportation Board (STB) for authority to purchase, divide, and operate the assets of Conrail. On June 6, 1998, the STB approved the NS-CSX application, effective August 22, 1998. NS acquired 58% of Conrail assets, while CSX got the remaining 42%, including about 7,200 miles (11,600 km) of track, most of which was part of the former Pennsylvania Railroad. NS began operating its trains on its portion of the former Conrail network on June 1, 1999, closing out the 1990s merger era. The Consolidated Rail Corporation (Conrail) was a 11,000-mile (18,000 km) system formed in 1976 from the Penn Central Railroad (1968–1976), by bringing together several ailing northeastern railway systems into a government-owned corporation. Conrail was perhaps the most controversial conglomerate in corporate history. Penn Central itself was created by merging three venerable rivals — the Pennsylvania Railroad (PRR, 1846), the New York Central Railroad (NYC, 1831), and the New York, New Haven & Hartford Railroad (NYNH&H, 1872) — as well as some smaller competitors. In 1980, Conrail had become profitable after the Staggers Act largely deregulated the U.S. railroad industry.
Locomotive Roster
The following are the most prevalent Norfolk Southern heavy diesel locomotives in use as of 2021, summarized from Chris Toth's excellent Norfolk Southern Diesel Locomotive Roster.
Rough Quantity
Notes
HO Model

725

-

The GE Dash 9-44CW is a 4,400 hp road switcher diesel-electric locomotive. Keeping in tradition with GE's locomotive series nicknames beginning with the "Dash 7" of the 1970s, the C44-9W was dubbed the "Dash 9" upon its debut in 1993.

Originally rated at 4,000 hp re-rated to 4,400 hp in 2013–2014.

The railroad plans to upgrade all of its Dash 9–40CW units to AC44C6M.

ScaleTrains.com

Athearn Genesis

InterMountain

400

+

The GE AC44C6M is a 4,400-horsepower diesel locomotive that was built by GE Transportation Systems, and rebuilt by GE, American Motive Power, Inc., and Norfolk Southern's Juniata and Roanoke Shops, starting in September 2015. The AC44C6M retains the 16-cylinder 7FDL-16 prime mover used in the core locomotive prior to rebuilding, but features GE's alternating current 5GEB13B7 traction motors. Externally, the rebuilds have received new wide-nosed cabs and a new front hood section of the same design as on the ES44AC, while retaining the underframe and engine and radiator compartments of the original Dash 9 units. Internally, AC44C6M features a new under-floor air conditioner, cab signals, LSL, DPU systems, PTC, and ECP braking ability, a significant technological improvement from the GE Dash 9-40C units.

Norfolk Southern Railway (NS) is a significant operator of this model. All 124 of their remaining Dash 9-40C units, numbered 8764–8888 (excluding 8798, which was wrecked in 2018) were rebuilt from 2015 to 2018 and numbered 4000-4124.

The railroad plans to also upgrade all of its Dash 9–40CW units to the same standard.

4000-4005 painted in special DC to AC traction paint schemes (see below).

Athearn Genesis (including DC to AC scheme)

Likely to come from ScaleTrains.com.

225

The EMD SD70ACe is the successor to the SD70MAC with design changes to comply with emission standards. The engine fires with 15% lower internal pressure to improve emissions and features fewer internal components in the inverter.

Units 1065-1074 are painted in special heritage schemes (see below).

Athearn Genesis (including Heritage schemes)

MTH tooling was acquired by ScaleTrains.com.

220
The GE ES44DC (Evolution Series, 4400 HP, DC traction) replaced the Dash 9-44CW model in the General Electric catalogue.

Athearn Genesis

InterMountain

185

The GE ES44AC GEVO (Evolution Series, 4400 HP, AC traction) replaced the AC4400CW model in the General Electric catalogue.

Units 8025, 8098-8105, and 8114 painted in special heritage schemes (see below).

ScaleTrains.com

Broadway Limited

Bachmann (including Heritage schemes)

InterMountain (including Heritage schemes)

135
The EMD/NS SD60E are rebuilt SD60 units with NS-designed widenose and cab.
Athearn Genesis (including "Honor Our Veterans" and "First Responders")

125

-

The EMD SD70M-2 is DC traction version of the SD70ACe, and is nearly identical to the SD70ACe. Production began in 2005.

All units are stored pending retirement/sale/disposition.

Athearn Genesis

110

-

The EMD SD70ACU was first built by EMD and later rebuilt by Norfolk Southern. It is originally an SD90MAC (or better known as a SD9043MAC) that has been rebuilt to renew its electrical components and replace the cab with the new EMD Phase-II cab to comply with the most recent safety requirements.

Many units pending retirement/sale/disposition.

Athearn Genesis

80

+

The GE ET44AC Tier 4 GEVO (Evolution Series Tier 4, 4400 HP, AC traction) replaces the ES44AC model.

ScaleTrains.com
(3677 on order)

InterMountain

NOTES:

All EMD SD80MAC were sold in February 2020.
All EMD SD90MAC have been rebuilt as SD70ACU.
Locomotive Paint Schemes
1982-2002: Original Scheme
2002-Present: "Horsehead" Scheme
Special DC to AC Traction Scheme
4000-4005 painted in special DC to AC traction paint schemes:
Operation Lifesaver
A few locomotives wore Operation Lifesaver livery: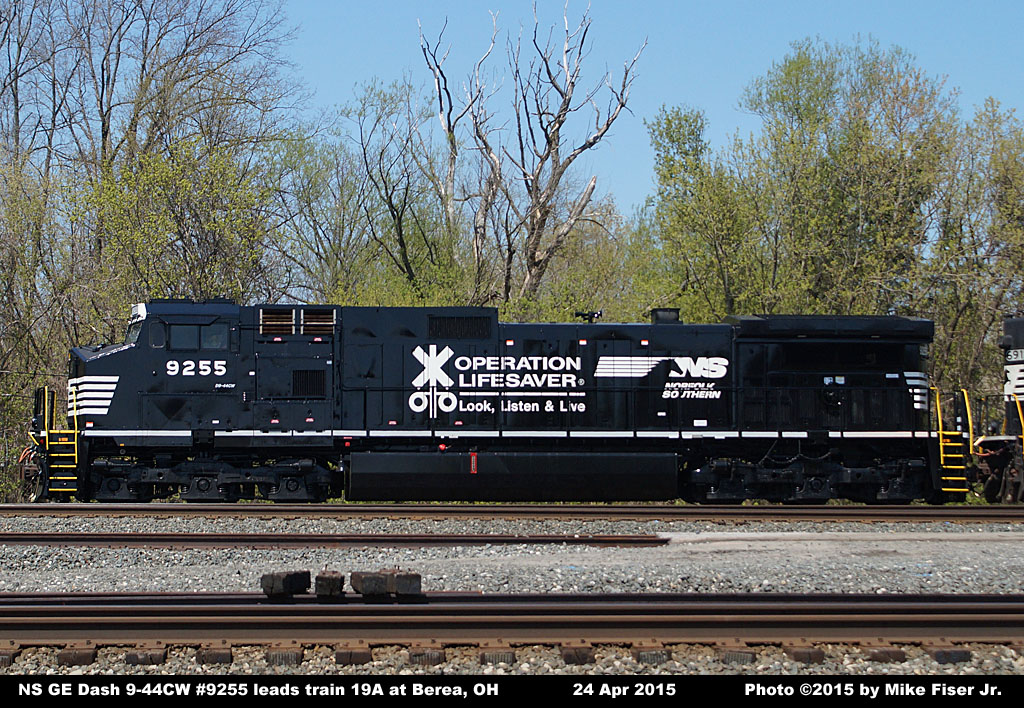 Honoring...
Paint schemes honoring...
Heritage Locomotives
Norfolk Southern has honored its predecessor railroads during 2012, its 30th anniversary year, by painting 20 new locomotives in commemorative schemes that reflect the heritage of those predecessors.
Since the 1820s, hundreds of railroad companies were built, merged, reorganized, and consolidated into what eventually became Norfolk Southern, itself created from the consolidation of Southern Railway (SR) and Norfolk and Western Railway (NW) in 1982. In 1999, Norfolk Southern expanded the scope of its heritage with its acquisition of a portion of Conrail (CR). The heritage locomotives represent most of the railroads that played significant roles in Norfolk Southern's history. The first unit, Conrail 8098, rolled out of Altoona, Pa., March 15, and the final one, Lackawanna 1074, rolled out of Muncie, Ind., on June 27.
Each paint scheme was modified to fit contemporary locomotives while staying as true as possible to the original designs. Norfolk Southern employees in Altoona and Chattanooga, Tenn., painted GE ES44AC locomotives, while the EMD SD70ACe units were painted at Progress Rail Services' facility in Muncie, Ind. The heritage locomotives are now hauling freight across Norfolk Southern's 20,000-mile, 22-state network.