Uncategorised
Details

Hits: 411
Diesel Locomotives
Frame and walkways painted Black
Body painted Navy (Ace Premium Gloss Enamel)
"PENNSYLVANIA MIDLAND" lettering Futura Bold

White
Above railing on hood units
Middle panel on cab units
13 point first letters; 12 point remaining letters

Road number lettering Futura Bold

White
18 points
Centered on cab below window on hood units
xxx on cab units
Cabooses
Frame and walkways painted Black
Body painted Navy (Ace Premium Gloss Enamel)
"PENNSYLVANIA MIDLAND" lettering Futura Bold

White
Centered on body underneath windows
13 point first letters; 12 point remaining letters

Optional "A Penn Family Line" lettering Futura Italic

White
Centered on body underneath "PENNSYLVANIA MIDLAND"
11 point letters

Road number lettering Futura Bold

White
18 points
Centered on cupola underneath windows
Details

Hits: 2904

The Society's mission is to further scholarly learning and interest in the Pennsylvania Railroad (PRR) and its predecessor companies by stimulating and encouraging the collecting, researching, recording and preserving of all technical, historical and practical information concerning the PRR and to make this information available to interested persons in appropriate ways, such as publications, meetings, and the maintenance of a research archive. In addition, the Society hopes to further accurate modeling.
I have served on the Society's Modeling Committee, working with manufacturers to produce accurate PRR models.
I have served as chapter president, vice president, webmaster, and as a volunteer in the hosting of annual meetings.
I have served as a volunteer in the hosting of annual meetings.
I have served as the chapter's webmaster.
The National Model Railroad Association (NMRA), an organization of model railroaders, advances the worldwide scale model railroading community through education and standards as well as advocacy and fellowship.
The Mid-Eastern Region (MER) is one of seventeen Regions within NMRA. The MER includes Maryland, Virginia, Delaware, and the District of Columbia, plus parts of New Jersey, Pennsylvania, West Virginia, and North Carolina. There are about 2,000 members in the MER. MER activities include at least one convention each year – normally in the fall.
I have served as a director of the Division and as chair of the Events Committee. I have served as a volunteer in the annual model railroad open house event.
The principal purpose of the Operations Special Interest Group (OPSIG) is to discuss, develop and disseminate ways of operating model railroads to realistically emulate practices of the prototype.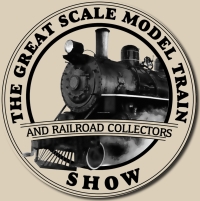 The Great Scale Model Train Show for over 28 years has provided a marketplace for everyone who enjoys building, operating, or simply watching scale model railroads. It's the largest show in the country dedicated to "scale" model trains, -- model trains that are intended to be reasonably accurate scale models. Merchandise at the shows includes all the common scales from Z to large scale. And there's much more than just the trains -- shop for scenery, tools, electronics, parts, videos, books, buildin supplies, software, display cases... everything you could want to make your hobby more enjoyable! Held quarterly in Timonium, Md.
Details

Hits: 2919
"A Modeler's Life" Podcast
"Springfield 2020 Recap" released February 11, 2020.
"A Modeler's Life" Podcast
"The Kelly Questions" released September 10, 2018.

"A Modeler's Life" Podcast
Episode 97: "Interview" released May 7, 2018.
"2016 Annual Meeting Models – 2"
The Keystone Modeler, Autumn 2016
On page 18, a photo and description of my mid-train lounge "bash" of class PS6L Sumac Falls. This was part of a PRR-Pro project.
"Building the PRR Middle Division: Mann's Narrows and My Take On SuperTrees"
Susquehanna Sidetracks, January 2014
The first finished part of the model railroad, which earned me the Scenery AP certificate. Pages 9-12.
"Building the PRR Middle Division: Yeagertown and Control Panels"
Susquehanna Sidetracks, May 2013
The Yeagertown location and my approach to control panels. Pages 10-12.
"Building the PRR Middle Division: Introduction"
Susquehanna Sidetracks, March 2013
Narrative overview of the model railroad's concept and plan. Pages 7-9.
Details

Hits: 5179
Reporting to the division superintendent, the supervisor is the railroad's executive at the local level.
Supervisor 43, "LEWISTOWN", covers the main line from milepost 156.0 to 186.5, including the Denholm coal wharf, the Lewistown station, and WALL and LEWIS interlockings; the Lewistown Secondary; and the Milroy Secondary.
The Freight Agent collects car requests from online customers and forwards waybills to the Lewistown Yardmaster.
Duties During Operating Sessions
Interfaces with suborindate crew and operators as needed
Performs all necessary supervisory functions
Oversees and performs emergency maintenance
Duties Between Operating Sessions
At each switching area, selectively move car cards from Hold bin to Outbound bin
At each switching area, move all car cards from Inbound bin to Hold bin
Generate new empty car requests from online customers and forward to Lewistown Yard
Fill empty car requests per orders from Lewistown Yard; provide via intradivisional trains indicated below
Restock beverages
Additional Duties Between Scenario 1 and Scenario 2
Additional Duties Between Scenario 2 and Scenario 1
Details

Hits: 4990
Notifications of operating sessions and open houses are made via e-mail to existing crew, FaceBook, and OperatingSessions.com.
There is no need for prospective attendees to register for an open house.
Operating sessions do require prospective attendees to register via OperatingSessions.com. Registration will be closed once a set number of positions is filled.
Existing crew will receive a special registration code within their e-mail notice of the session. This code will provide preferential registration for 48 hours before new crew are accepted.
OperatingSessions.com instructions to come
Details

Hits: 3250
The Middle Division uses a "car card and waybill" system for freight car movements. The system is described on the following pages:
Details

Hits: 3010
THE PENNSYLVANIA RAILROAD
MIDDLE DIVISION
43rd SUB-DIVISION
EMPLOYEE ORIENTATION
FOR OPERATIONS ON
JERRY BRITTON'S
PRR MIDDLE DIVISION IN HO SCALE
EFFECTIVE February 4, 2020
Welcome
Welcome to the Pennsylvania Railroad's Middle Division!
Congratulations on signing on; we wish you the best during your tenure as an operator on the line.
Details

Hits: 3066
A few house rules:
No surprise visits! If you would like to operate on the railroad, please gain permission in advance.
If you have to cancel your attendance at a session, please do so in a timely manner so that an operator on the stand-by list may be offered your position.
Please plan to attend the entire session as an early departure may adversely affect the experience of the other operators.
Please do not bring guests without first gaining permission.
No children under the age of 16.
You may park in the street or the driveway. Limit parking in the driveway to the left hand side, as far forward as the lamp post; do not park on the right side.
The powder room is on the first floor, opposite the door to the basement.
Soft drinks are available in the train room's refrigerator, please help yourself. A recyclables container is located opposite the foot of the stairs.
Handle locomotives and rolling stock with extreme care. They are not only expensive, but have very delicate parts, including but not limited to, grab irons, brake wheels, etc.
Hand throws on switches are for decoration only! All switches are powered and are operated either by a tower operator or via toggle switch on the fascia.
When switching within an area, "normalize" all switches when leaving the area. The switch is in the normal position when the panel indicator is green.
Have fun!
Details

Hits: 4995
Seniority
Crew members draw numbered chips from a bag before each session. The individuals select their jobs in the order of the numbers drawn, starting with #1.
In this manner, all crew members have equal opportunity to select various jobs over the course of their career.
The Call Board
The call board is divided into two sections.
Down the left side are static positions, such as yardmasters and tower operators.
Down the right side are road positions, both mainline and secondary. When enough people are available, trains may run with both an engineer and a conductor. Running with two-person crews is a good way to train newcomers in rules and procedures so they can gain the experience to operate on their own.
photo to come
Details

Hits: 4863
Mainline crews communicate with tower operators, when needed, via train phone. Train phone is simulated via lineside telephone.
Secondary crews communicate with tower operators via lineside phones. Locations of lineside phones are indicated on fascia control panels and represented trackside; locomotives/cabins should be stopped close to lineside phones for the convenience of the crews.
Until such time that lineside phones are implemented, crews shall walk to the tower operator to communicate. The act of walking to the tower operator shall simulate the act of walking to the lineside telephone. FRS radio shall be used temporarily between the yardmaster and the tower operator.